18. Oktober 2004 Fun Der katholische Weblog "Shrine of the Holy Whapping" hat eine Menge Fans, die dies auch online kundtun: "An Ultramontane Monty Python troupe." (Otto Clemson Hiss), "Fun Lovin' Catholic Nerds from Notre Dame" (Mark Shea), doch mein Lieblingskommentar stammt von Scipio: "In der katholischen Weblog-Szene hat sich blitzschnell." Und tatsächlich, sie haben recht.
Da bleibt mir nur noch ein zusammenfassender Kommentar: "Dieser Blog kann mit Fug und Recht."
Davon abgesehen ist der Blog mindestens so schräg, wie das deutsche Zitat in einem englischen Weblog vermuten läßt: neben dem absolut notwendigen Link zur spanischen Inquisition findet sich auch ein Link zu den "Top 10 der katholischen Aufreißsprüche" (wie etwa: "Darf ich Ihnen Feuer für ihre Votivkerze anbieten?" (10), "Du hast unglaubliche skapulier-braune Augen!" (3) und die absolute Nummer eins: "Beichtest Du öfters hier?"). Ach ja, und hier wird auch diskutiert, ob Bernadette Soubirou oder Therese von Liseux die hübschere Heilige ist.
Also ein wirklich cooler Blog, der im übrigen so unfangreich ist, daß man kaum alles lesen kann. Wo ich den Link gefunden habe, möge der regelmäßige Leser bitte selbst erraten.

Link | Twittern | Kommentar



06. Oktober 2004 Stones 6. 10. 2004 Comics Weil ich um Halloween herum soviel zu tun haben werde und ich eh nicht so lange warten kann, hier und heute exklusiv der neue Stones Halloween-Strip von Al Kerry.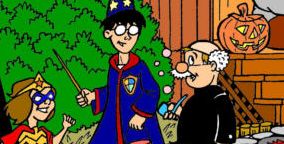 Link | Twittern | Kommentar



02. Oktober 2004 Comics Der amerikanische Seminarist Chris Decker hat in [Road to Emmaus] das erste Konzept zu seiner Edutainment-Serie "Joe Catholic" geposted. Und wie könnte es anders sein - ich find's cool!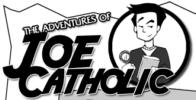 Link | Twittern | Kommentar